Hello dear WordPress users. In this session of the WordPress training course, we are going to introduce you how to login to WordPress dashboard and work with the dashboard. 🙂
If you are a site designer or familiar with sites and CMS (Content Management Systems), you should know that every site has a management panel. From this management panel, you can edit the content or you can install the plugin template, etc.
Among these CMSs, WordPress is the most popular one, which is a completely understandable content management system. This system also has a powerful panel for managing the site. From this panel, you can do the work you want to do on the site or blog in a completely simple and effortless way. WordPress management panel is also on the web. You can access the admin panel by entering the default address for WordPress and enter the admin section by entering your username and password.
Login to WordPress administration
To login to WordPress dashboard follow these steps:
The address of your WordPress admin panel is as follows:
http://yourdomain.com/wp-admin
You should enter your site address instead of yourdomain.com.
After seeing this form, just enter your WordPress username and password and enter the WordPress admin panel.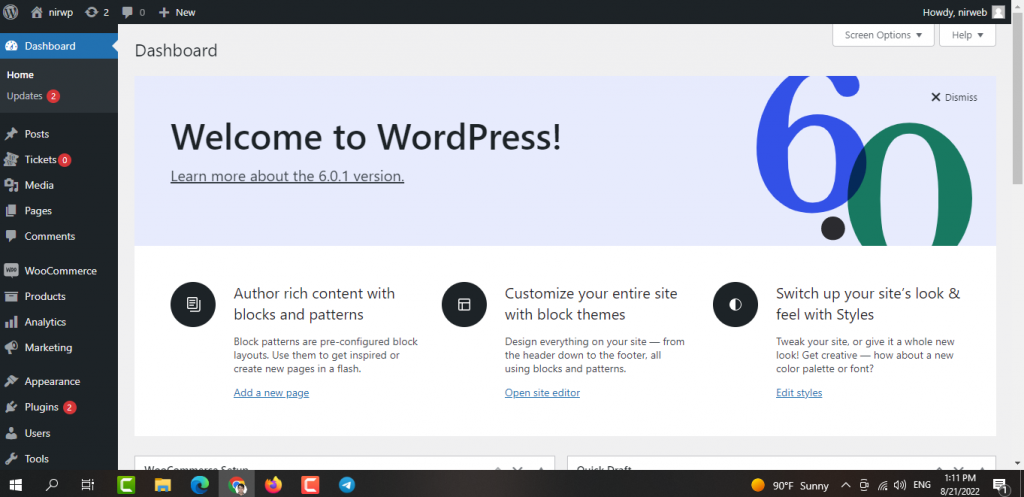 The top image you see is the WordPress admin panel that you can get by entering the user password in the address we introduced.
Keep in mind that this place is the control panel of your website and every change in this part will affect your website content and appearance, so please do not enter and change any part before knowing which part are you in.
Fortunately in these articles we will tech you all the parts in great details and step by step you can learn how to manage your website.
if you are a newbie and want to learn the most basics about WordPress you can read our article: What is WordPress and how to create our 1st website?