A Beautiful and Flexible User Panel
SMS-based Login, Registration, and Password Recovery System
Notification and Messaging system
The User Panel plugin, developed by the powerful team at Nir Web, formerly known as WordPress Yar, is one of the plugins that has revolutionized the WordPress world.
The WordPress User Panel plugin is an essential need for completing a website. Usually, themes or eCommerce plugins don't give enough importance to their own panel and don't have a good appearance. The User Panel plugin can overcome this weakness and provide unique features to users and administrators.
Please note that the user interface of your website is very important for your users, and this environment can be a place for more interaction with your website users. So, please take it seriously!
We have fully considered this in our plugin and created an attractive environment with easy-to-use features to attract any type of user with any taste.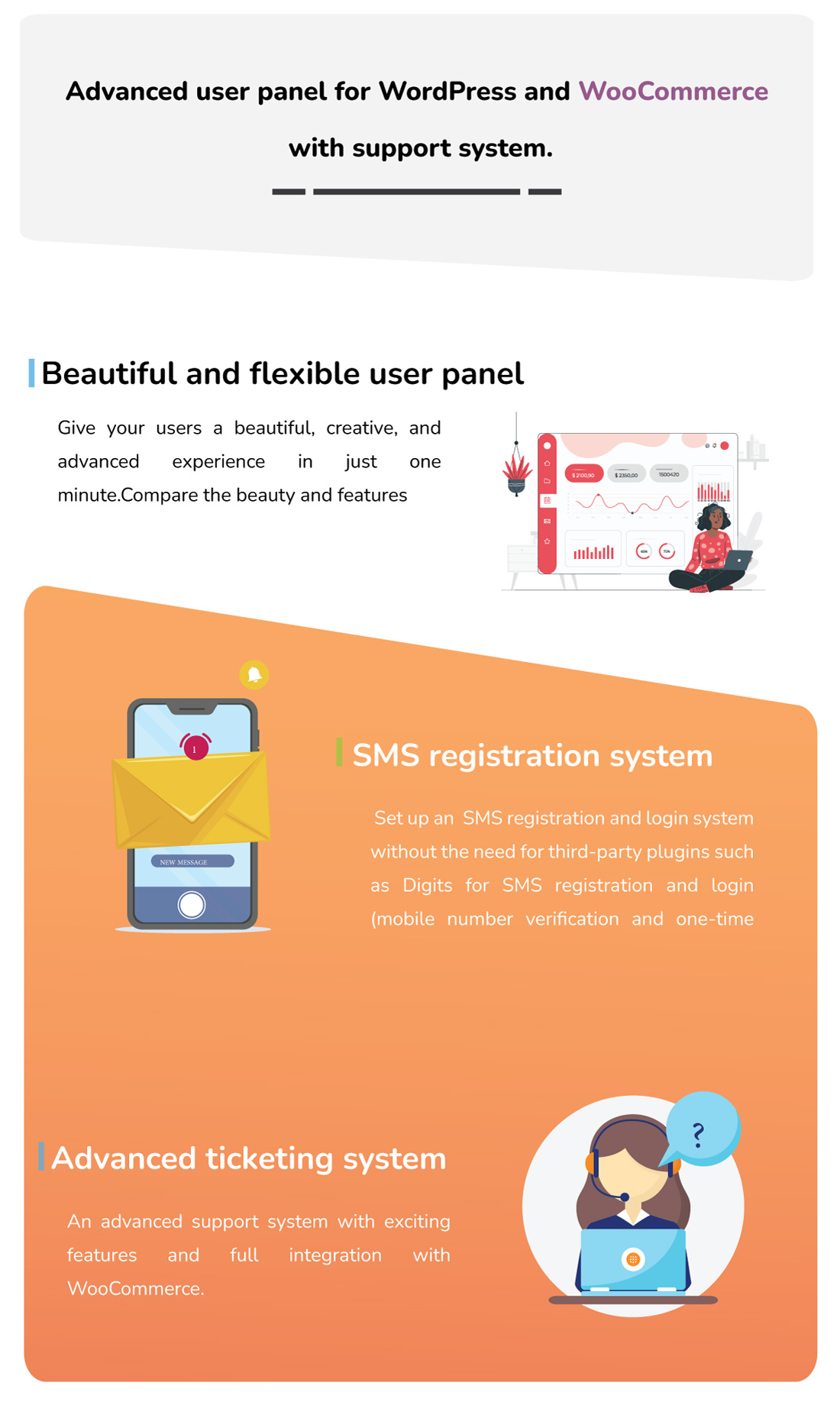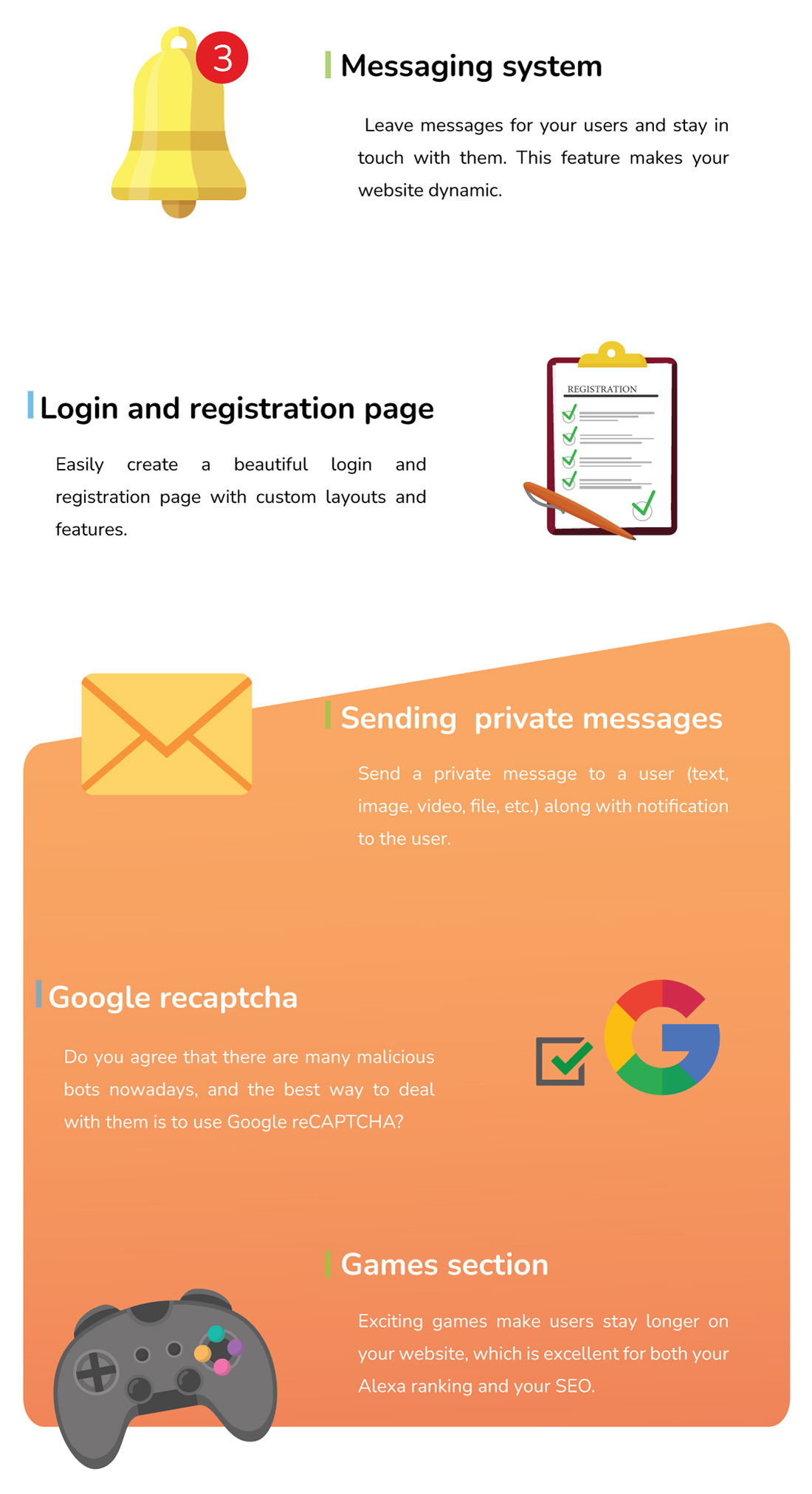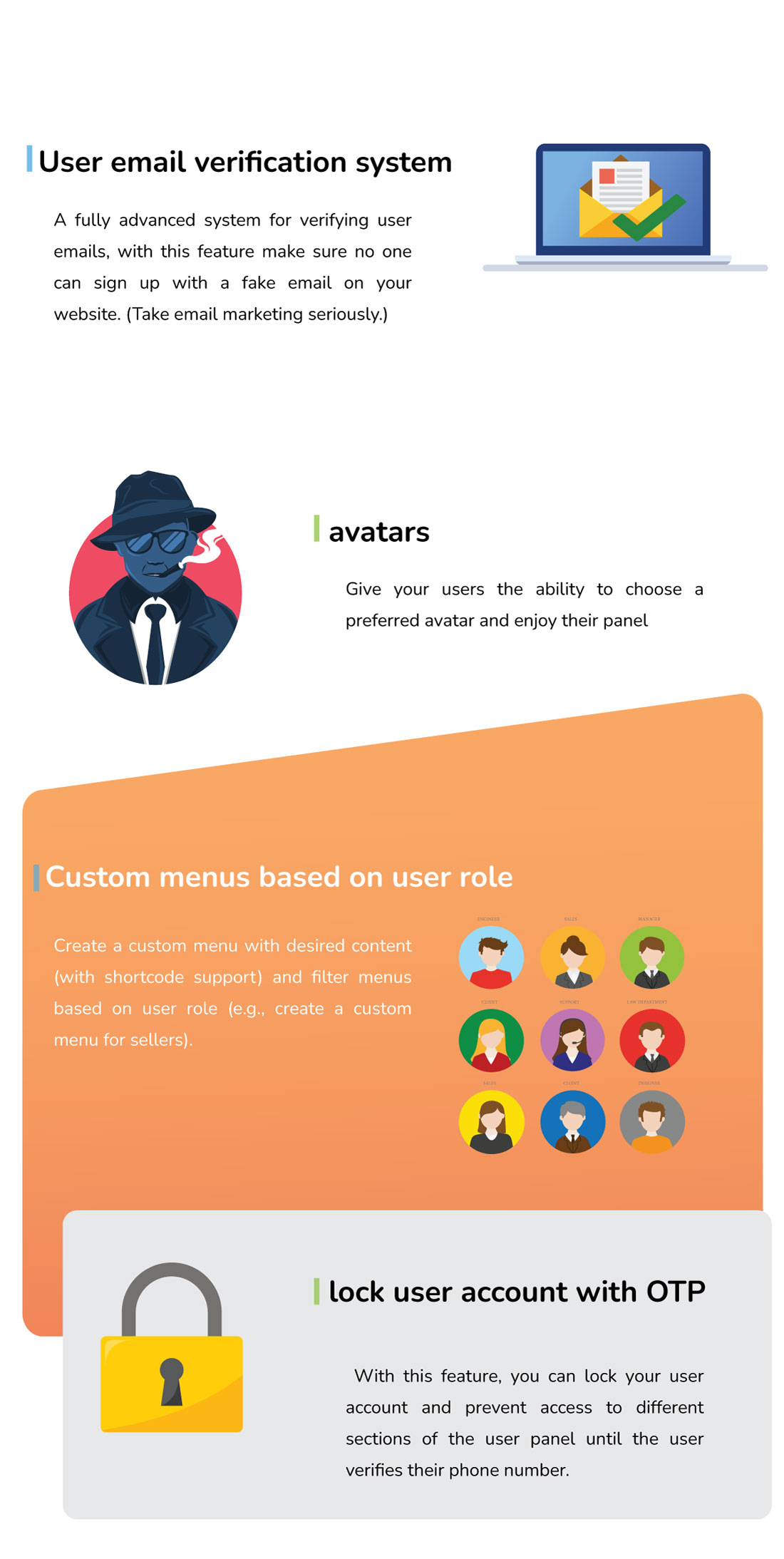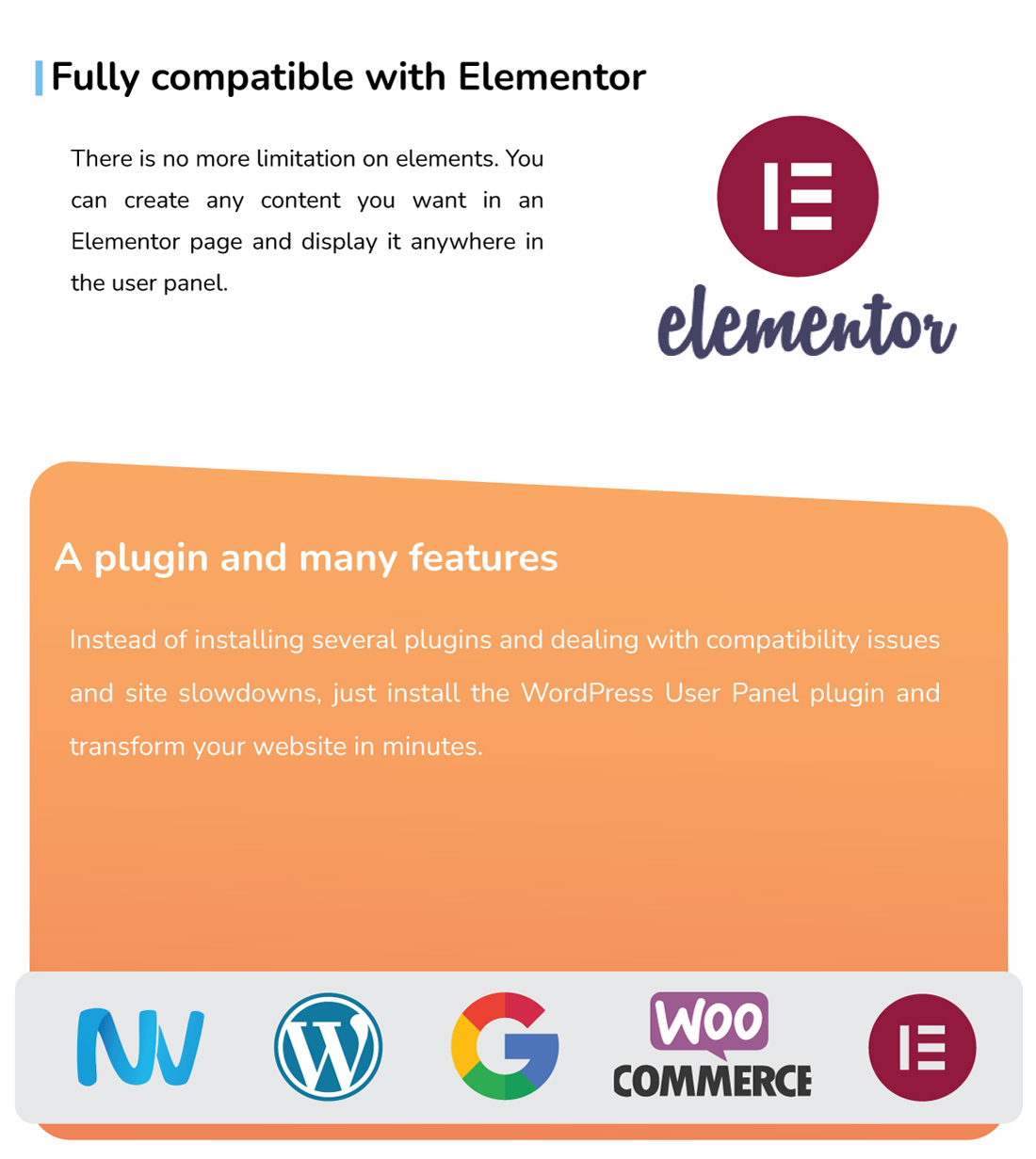 The User Panel plugin and its amazing features
The WordPress User Panel plugin has features that you may not find all in one WordPress plugin. These features can turn your website into an outstanding site; a site that cares about user satisfaction and users understand this, especially if there are features that create excellent interaction between you and your website users.
You can set up the panel in less than 5 minutes, and after setting it up, you will see what a transformation it brings to your site.
Now, you may think that we have mentioned all the features in the above image, but that is completely wrong. We have only mentioned some of the main features of this amazing plugin, and there are other features that may be even more important than the above ones and exactly what you are looking for.
A Beautiful and Flexible User Panel
Give your users a beautiful, creative, and advanced user interface in just one minute. If you don't believe it, compare it…
Transform your website in just a few minutes by installing our plugin, and let your users benefit from a beautiful panel. With various updates to the appearance of our plugin, we have worked to provide the best design based on the tastes of users.
SMS-based Login, Registration, and Password Recovery System
Set up a completely independent SMS-based login, registration, and verification system without the need for separate plugins like Digits. Our user panel plugin includes this feature for your convenience.
If a user forgets their password, they can easily reset it via SMS verification.
To ensure that users have entered their phone number correctly, a verification code is sent to them during registration, password recovery, or when changing their phone number, which they must enter to complete the process.
Additionally, you can use a one-time password for user login. Users can log in with either a static password or a one-time password. If a user does not have access to their mobile phone or wants to log in quickly, they can easily log in with their static password.
Advanced Ticketing System
The WordPress user panel includes an advanced support system with exciting and practical features, fully compatible with the WooCommerce plugin. Having excellent support is essential for any website. You can create an advanced support system without the need for a separate plugin, simply by downloading our free ticket plugin from the WordPress repository. This plugin is fully compatible with the user panel plugin and integrates beautifully with it. After purchasing, users can easily communicate with support through the support system.
Messaging system
Easily leave messages for your users and stay in touch. This makes your site dynamic. Users like to easily access important news.
You may have seen notification systems in some applications that quickly inform you of discounts. So, use this trick to increase your sales. Another feature of the user panel plugin is that it displays the number of unread messages and notifies the user.
The login and registration page is often overlooked on many websites, which can discourage users. Therefore, you can easily create a beautiful login and registration system with customizable settings. (Three types of login and registration pages) Choose a login and registration page that suits your taste and attract users to the beauty of your site.
Also, display a simple text below the login form to inform users of the site's terms and conditions.
Google Login capability
Another feature of the user panel plugin is the ability to log in with Google. For ease of login and registration, the option to log in with Google has also been added so that users can easily join the site by simply selecting their email and do not need to fill out any registration fields.
Sending a private message
The user panel plugin allows you to send a private message with text, pictures, videos, and more to a specific user. For example, with this feature, you can send a message containing a discount code to a single user or any other message that you don't want other users to see. This section also includes an SMS notification system that allows you to notify users that you have sent them a message through an SMS.
Google reCAPTCHA
The number of malicious bots has increased significantly, don't you agree? The best way to prevent them from entering your site is to use Google reCAPTCHA. You can easily activate it and secure your site. The user panel plugin version 3 also supports reCAPTCHA, and by enabling it, you can speed up user verification.
Games section
Exciting games in your user panel make users spend more time on your site, which is excellent for your site's Alexa ranking and SEO. The user panel plugin has classic and light games that are very popular and even you may be attracted to them. So, feel the difference with us!
User email verification system
A fully advanced system for verifying user emails. With this feature, no one can join your site with a fake email. This problem has become widespread today, and many sites have users with fake emails, and they cannot send emails to all users. Take email marketing seriously and give it the importance it deserves because it is an excellent marketing tool.
In the email system, you can also activate one-time password login so that users can log in as desired with a password sent to their email.
User avatar
Users are more interested in a panel with a profile picture, so give your users the ability to choose their desired avatar and enjoy their user panel. Users can easily upload and select their desired image. You can also display a default avatar for users who have not chosen an image to beautify your panel, or you can disable user image selection and choose a beautiful avatar yourself.
Create a customized menu with any desired content (even shortcodes) and filter the menu based on user role. For example, create a menu only for sellers. This is an excellent feature to add functionalities that may not exist in the user panel plugin.
In the new version, you can create menus that display a simple or Elementor page. So, you can create any design you want.
Integration with the famous page builder, Elementor
In the user panel plugin, you have the ability to display an Elementor page in custom menus and easily display any content you want in the panel with this fantastic page builder. Also, on the dashboard page, you can display a page after each box. You can easily make the whole panel Elementor.
Mobile verification lock feature
If you have forgotten to get users' mobile numbers, with this great feature, you can lock the user account and not allow them to enter their account until they verify their mobile number.
This lock is specific to a few main pages of the panel. The "Dashboard" page and the "Orders" and "Downloads" pages that users have the most need for.
Locking the payment page for guest users
Many users may enter the site for the sole purpose of purchasing a specific product and, after selecting the product, enter the payment page without registering on the site. The plugin has a feature that allows you to lock the payment page with a beautiful page instead of using the WooCommerce login and registration system. This way, users will first need to log in or sign up for the panel system and then complete their purchase.
Locking site content with the user panel
One of the features of the user panel plugin is the ability to lock the content of a post or page, which you may need. With this feature, you can lock any content you want so that only users who have logged in to the site can access it and view its contents. You may also have a page or post that you want visitors who are not logged in to the site to not see.
Dashboard with abundant features
The first page that each user sees in their account is the dashboard. You can add different and attractive sections to your dashboard and personalize them in the WordPress user panel plugin settings. Some important features of the dashboard are:
Slider section
In the settings, you can easily create a slider for your panel dashboard and even display important news from your site in the user panel.
Account Overview
You can set up an account Overview section in your dashboard page, and you can choose the content of this section. The content is displayed beautifully with an attractive icon. As these items are dynamic and constantly changing, we have synchronized several commonly used items. This section informs users about important items in their panel.
Admin Message
Admin can welcome users with an attractive message that mentions their name and gift them a feeling of trust.
Create additional boxes
Every site manager has content they want to display in their user panel. We allow them to easily create up to two additional boxes and place their desired content in them for users to view.
Display latest products and articles
We all want to showcase our latest products and articles to our users, so what better page than the dashboard? Your latest products and blog articles are displayed beautifully and simply to your users, and they will definitely see them and become informed about the latest products and news on your site upon login.
Announcements section
With the WordPress user panel plugin, you can add an announcement section to your dashboard. With this section, you can display important messages to your users, such as site announcements, changes to rules and regulations, and more. Additionally, you can use this section to display messages to specific user roles or groups.
Our user panel plugin has four attractive sections for user communication, so you can inform users of anything. Each section can be disabled if you don't want to use it. In many cases, such as events or discounts, these notifications will be very useful.
We've already explained the personal message section, but there are three other sections we'd like to introduce:
Gift codes section
With this useful section, you can send users a great discount code, and users can easily access all available discounts by clicking on this box. This is an excellent feature for e-commerce sites whose customers are looking for a discount code for their purchases.
Alerts section
By sending an alert to users at the top of the dashboard page, they will quickly learn about your message. This section can be used in many cases, such as when something happens on your website that worries users or when you want to alert users about future website unavailability.
Redirects section
If you want users to use the WordPress user panel plugin instead of logging in with WooCommerce or WordPress, this section is for you. By enabling the WordPress and WooCommerce redirect, users are automatically redirected to the user panel.
Maybe you're not using WooCommerce, and your theme doesn't have a login button. We've included a shortcode in the user panel plugin that you can place in the header or menu or anywhere you want to redirect users to the user panel. This shortcode also displays your desired login and membership content, as well as the user's name after logging in.
One plugin and lots of features
Instead of installing multiple plugins and facing compatibility issues and sluggishness, just install the WordPress user panel plugin and transform your site in minutes. If you have any problems, you can easily contact the support team and solve your problem.
Other features of this plugin are exceptional user panel, including a downloader sorter in WooCommerce, unlimited menu creation with custom links and icons, fully responsive design, compatibility with all themes, advanced settings panel, mobile number verification, two types of registration systems (email and SMS), ability to send various notifications, regular support and updates, and more.
Note that this plugin requires the installation of Source Guardian on your hosting (this feature is almost default on most hosting services worldwide, and if it's not available, you can request activation by submitting a ticket). Also, the PHP version must be set between 7.4 to 8.1
Please note that this plugin can only be activated on one domain.